About Kaneyamaen
Kaneyamaen is a traditional Japanese Ryokan having a beautiful Japanese garden to present distinctive four seasons of Japan. A lot of seasonal flowers as well as various seasonal festivals and events held throughout the year will welcome you to share the beauty and delight in Japan.
Kaneyamaen is located in the highland area on the north of Mt. Fuji where people come to enjoy cool climate in summer and snowy landscape in winter.
Mt. Fuji is 3776-meter high, the highest mountain in Japan. The beautiful appearance is the very symbol of Japan, representing Japanese culture. It is open for climbing during summer season and a lot of people come to get to the summit to watch the sacred rising sun.
Four Season
You will surely enjoy the magnificent view of Mt. Fuji, registered as World Cultural Heritage Site, from our traditional Japanese garden as extensive as 25,000 tubo (= more than 8 ha), as well as colorful seasonal scenery of Japan, such as beautiful cherry blossoms in spring, pleasant-smelling deep green summer trees, ablazing autumnal tints and winter garden covered with pure white snow.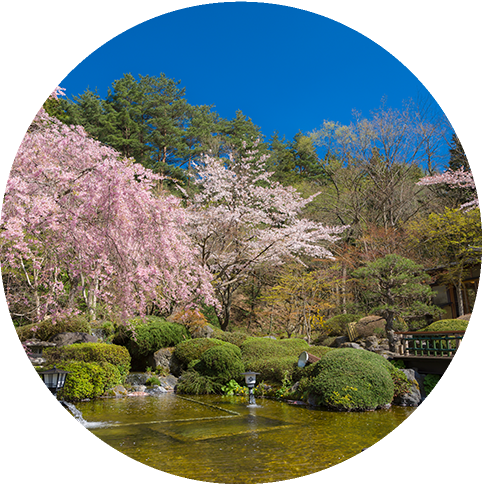 As Kaneyamaen is located in the highlands at the foot of Mt. Fuji, the cherry blossoms become at their best around mid- to late-April, a little later than the city areas such as Tokyo and Osaka.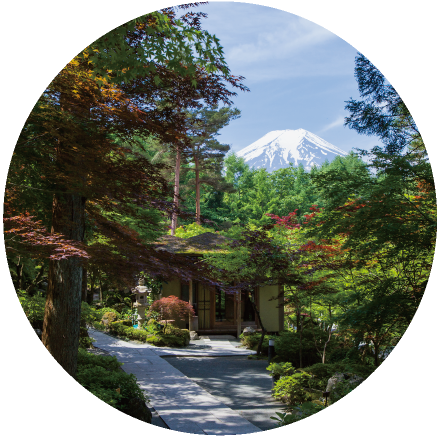 The climbing season for Mt. Fuji (Yoshida trail) is from the 1st of July to early September. Please note the opening of trails may be delayed due to snow or other conditions.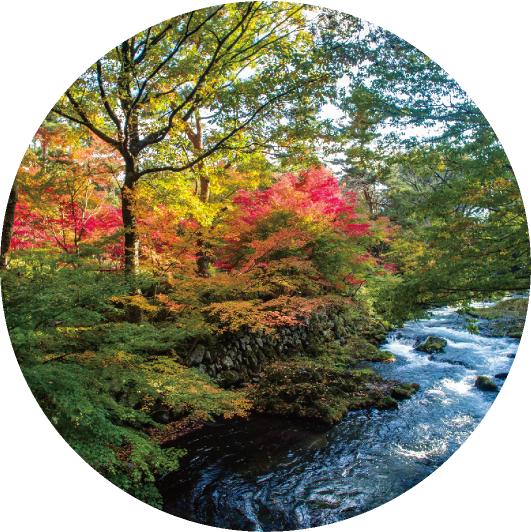 The best time to see autumnal colors in Kaneyamaen is from late-October to mid-November, during which we light up the garden at night.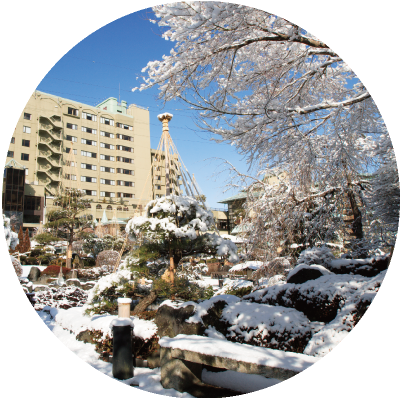 We have snow in Kaneyamaen only several times a year, but the garden covered by a pure white blanket of snow is really beautiful.
Hot Spring
All the baths in Kaneyamaen are natural hot springs blessed from deep below Mt. Fuji. We offer a variety of baths, such as open-air natural hot springs on the 10th roof floor where you can also enjoy the close view of Mt. Fuji and a private open air bath in some guest rooms.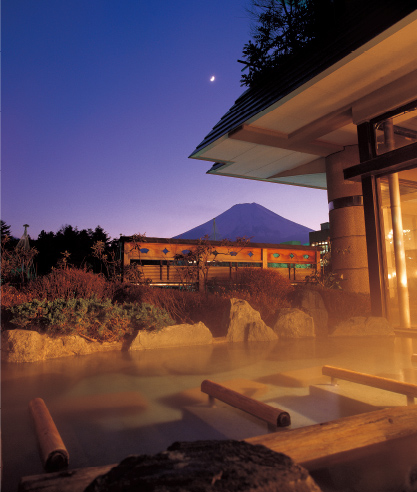 Omotenashi
Omotenashi is the Japanese way of hospitality. We will welcome you all with the true spirit of Omotenashi.
Upon check-in, please feel free to visit our tearoom located in the garden to taste traditional Japanese green tea "matcha" served with Japanese-style sweets. And at night, held on the lobby stage is a dynamic sound performance of "Reiho Taiko (Drums dedicated to Sacred mountain)" using Japanese traditional percussion instruments Wadaiko drums.
After enjoying the show, why don't you spend some time at our bar lounge. Tasty sake and live performances as well as the view of beautifully lit up garden will surely entertain you.
We hold a lot of seasonal events to let you feel pleasure and attractiveness of Japanese festivals. To name a few, Cherry Blossom festival in spring, Firefly Festival in early summer when the glow of fireflies create a fantastic light show across the garden, Display of Fireworks and night stalls in summer, Illuminated autumn leaves, New Year event in winter, and so on.
Flower arrangements displayed everywhere in the building are also the Japanese traditional art for Omotenashi to welcome our guests with neatly arranged wild flowers.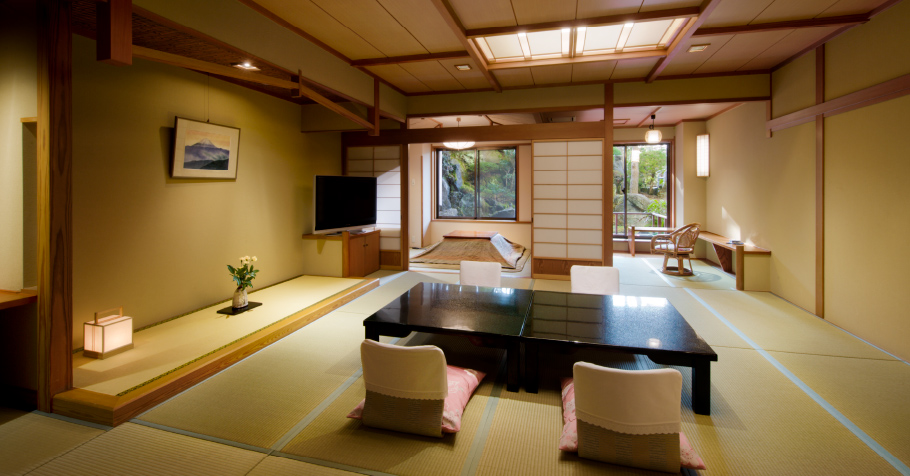 Rooms
Not only Japanese-style rooms floored with tatami mats, but also various types of rooms are available, such as a Western-style bedroom, a room with a private open-air bath, and a room with a private garden. Of course, you can request a room with a splendid view of Mt. Fuji.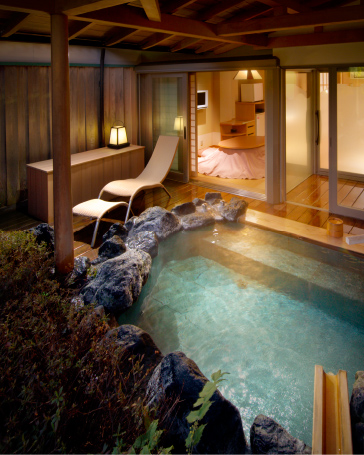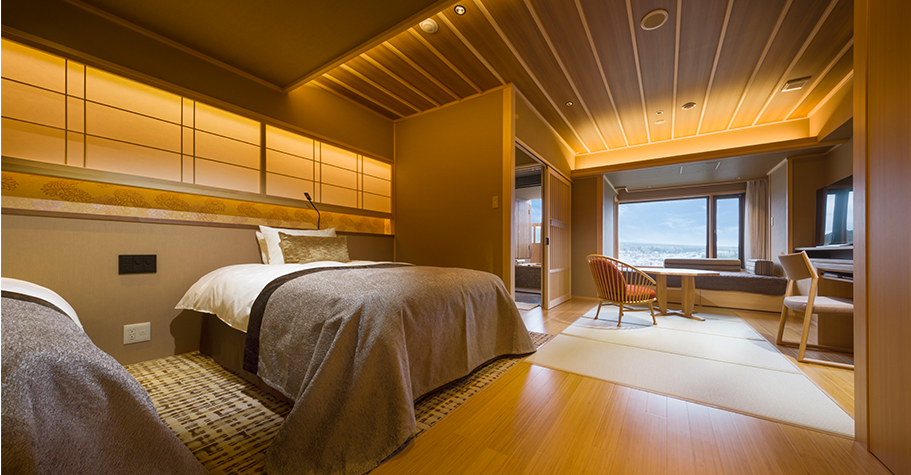 Sanri
Total 20 rooms on the upper floors (from the 6th to 9th floors) of Seseragi tei are named "Sanri." All the rooms are provided with an open-air bath with a view of Mt. Fuji, so that you can have the superb view all to yourself while soaking in a hot spring. The spacious room layout includes a living room with a large day bed installed by the window and a bedroom. Dinner is a Japanese cuisine using plenty of vegetables harvested on the foot of Mt. Fuji, served in Sansan Dining Sakuya. Breakfast is available in Garden Terrace, too. An exclusive lounge for lodging guests only is to complete your stay. Please spend relaxing time while appreciating nice beverage, sweets and wine as well as the view of our Japanese garden.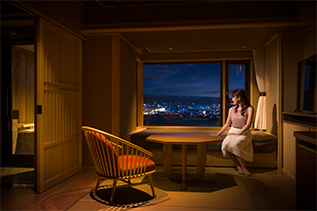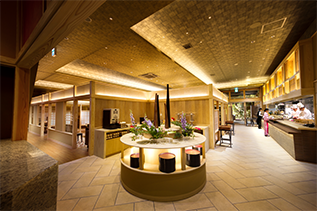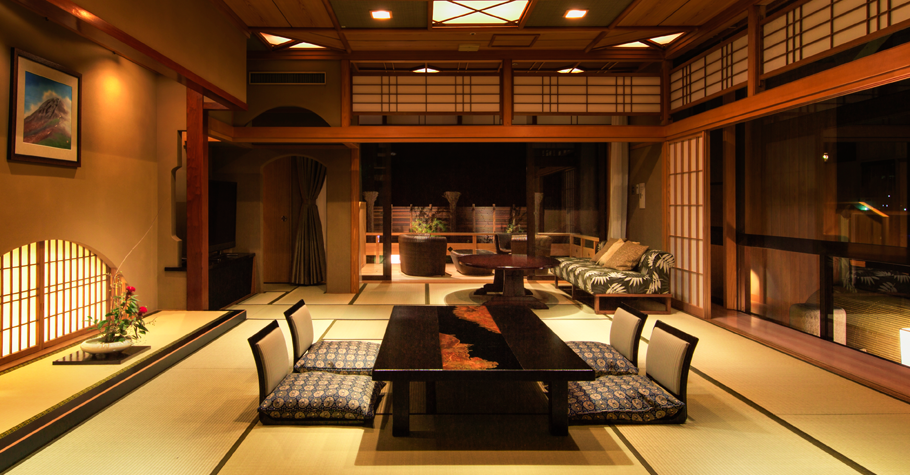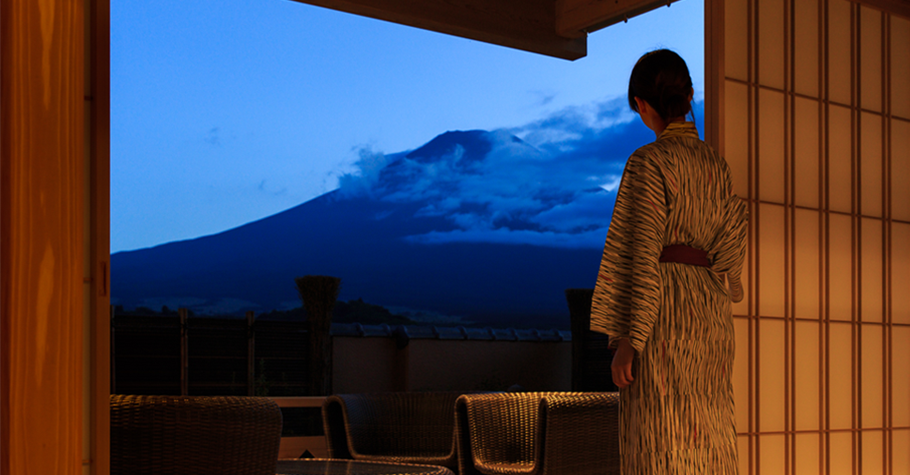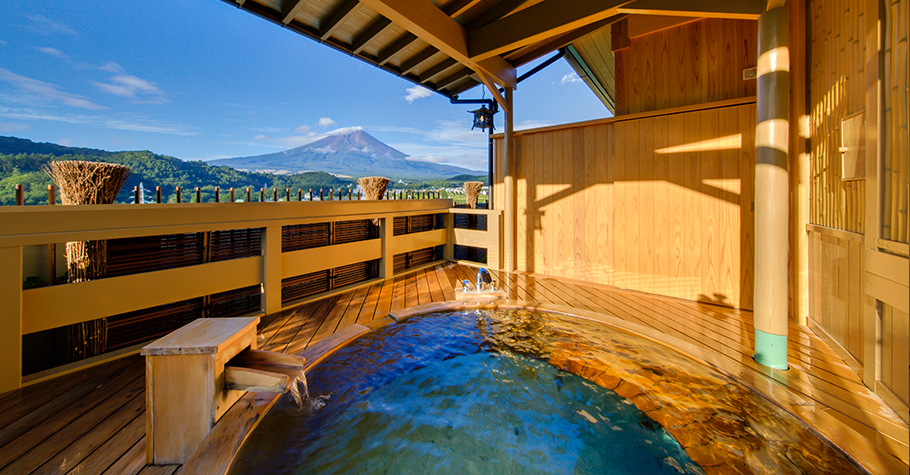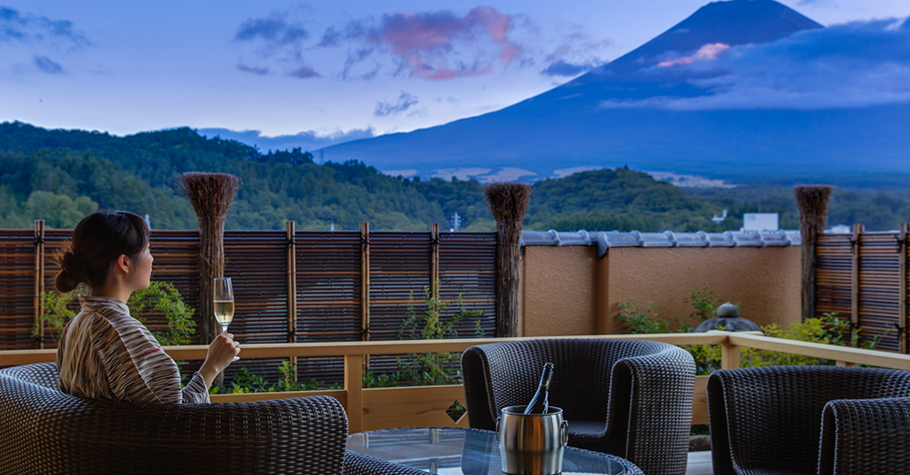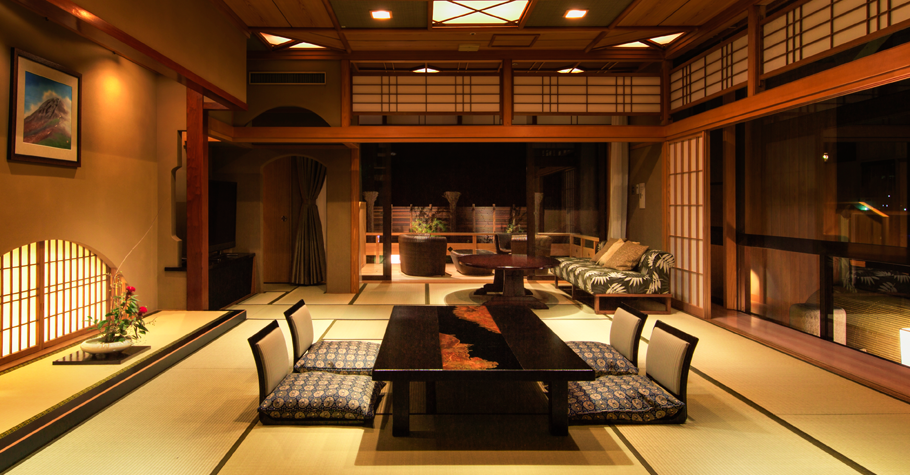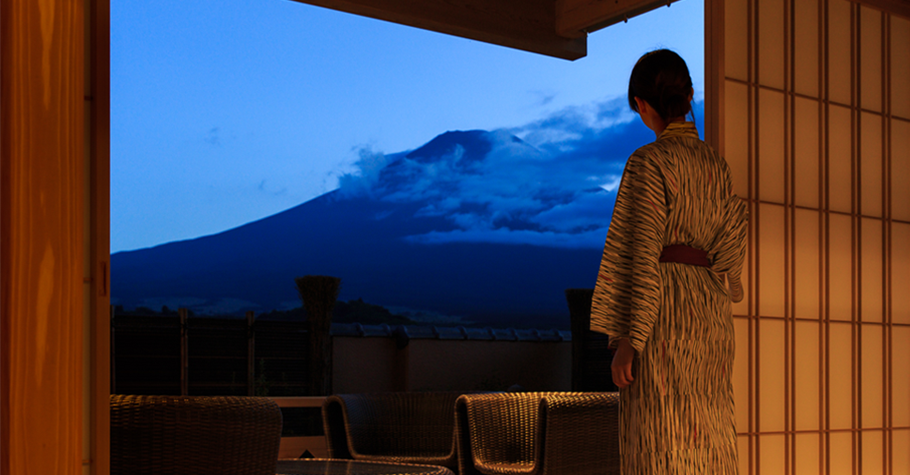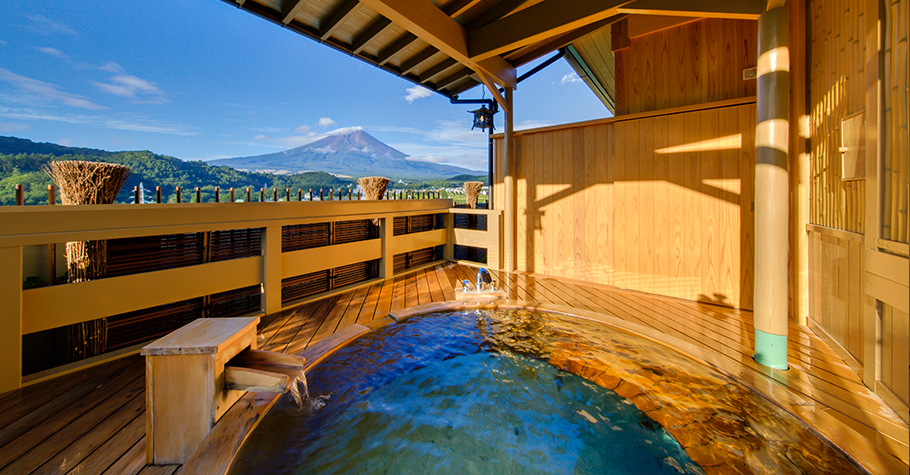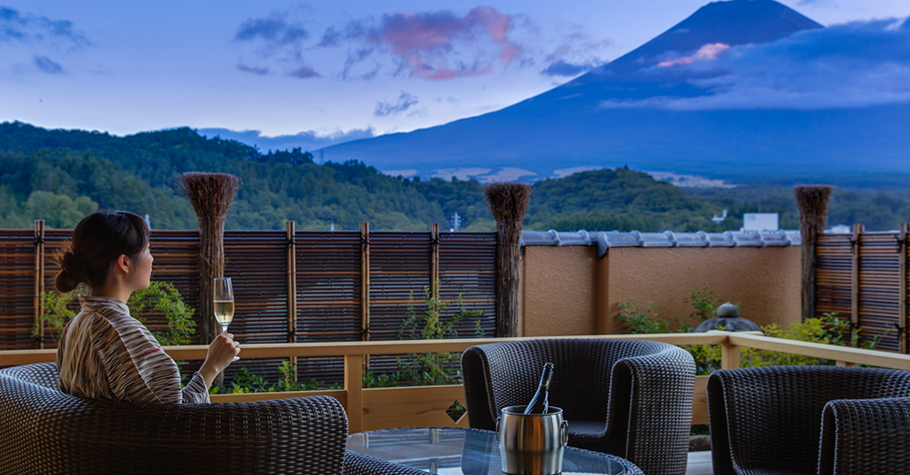 VIP
room
The top floor of Kaneyamaen is a special space for our VIP suite available exclusively for one party a day. This luxurious guest room is attended by a private chef and provided with a private open-air bath, a spacious main room of about 24 ㎡, a Japanese-style room of about 13 ㎡, a dining room, a Japanese-style twin room, a Western-style twin room and a roof garden terrace. Dinner is a form of Japanese cuisine: Kaiseki-ryori dishes prepared by the chef with his full skills in cooking at the special kitchen in dining. Japanese-style breakfast is also prepared in the room. The VIP suite is roomy enough to accommodate a big family of 3 generations, and utilized for celebrating special occasions by many people.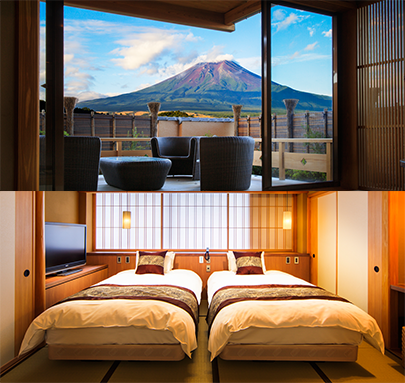 Bessho Sasa is located on the 4th and 5th special floors. All suites are equipped with beds, a private open-air bath and a splendid view of Mt. Fuji. Dinner is creative Japanese cuisine using the finest seasonal materials in the area and from all over Japan, and served at the specially arranged dining in the room.
Complimentary coffee, soft drinks and some sweets are offered in the guest lounge. Local wine from Yamanashi prefecture is also offered free of charge.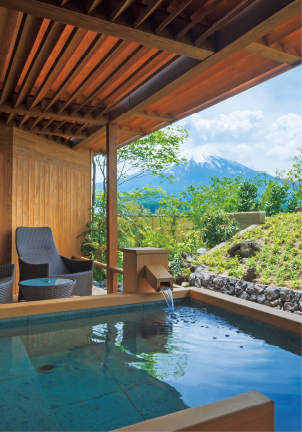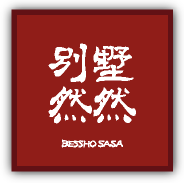 Food
A stay at Japanese Ryokan basically includes two meals: dinner and breakfast, both to be appreciated by taking enough time.
The dishes served by Kaneyamaen are cooked using the most delicious seasonal materials ordered from all over Japan to make perfect Japanese cuisine with bright color and taste. You will be satisfied with the delicate skills in using knives of Japanese-style cooks and certainly the delicious foods arranged beautifully on the plates.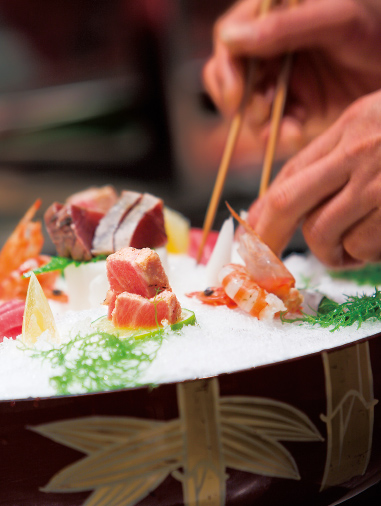 Ryokan
Unique culture of staying Ryokan, Japanese-style hotel, has been cultivated in the long history in Japan.
In order to let the guests spend relaxing time in Ryokan, special dressing gowns are prepared differently for men and women. Another unique culture is to require to make a reservation in advance and check-in before 7:00 p.m. Unlike the custom to take a quick meal by room service whenever arriving at a hotel, it well reflects the characteristics of Japanese culture to take time for enjoying hot spring and meals. This is the Omotenashi also linked to the essence of Japanese cuisine to appreciate each dish slowly.
If you want to arrive late and spend little time for meals, staying at our Ryokan is not a good idea. We recommend to find a simpler hotel for you.
This is our pride valued through 50 years of our experiences in the hotel business to respect the cultures of Japan. We would appreciate your understanding.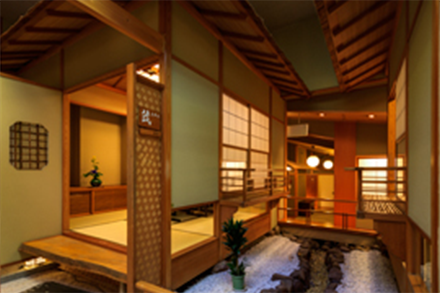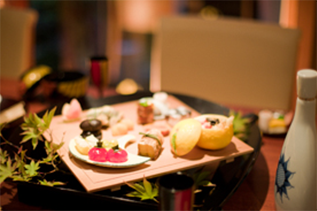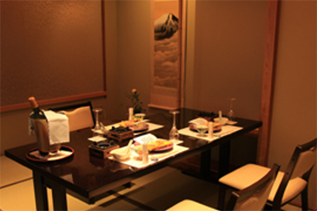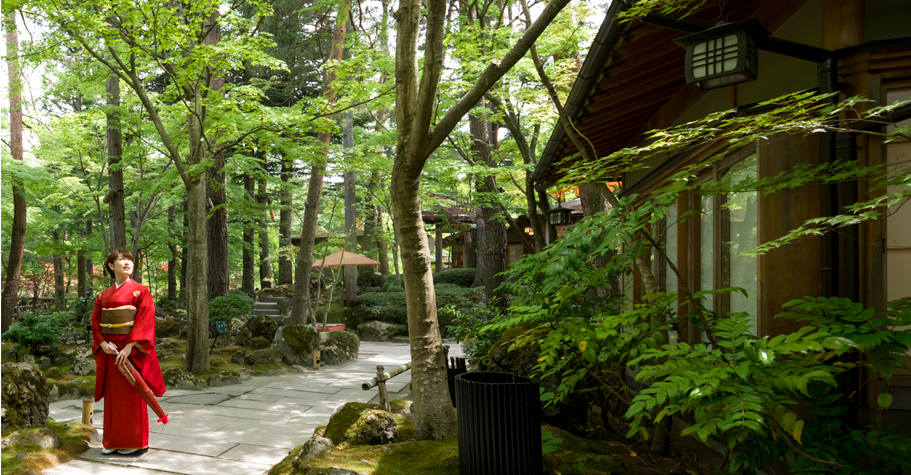 Guest's review
Let me report our visits including Mt. Fuji,
a shrine with at least 1900 years history and Mt. Fuji museum. We were impressed with a lot of Japanese cultures.