Held during April to November

Oshino Village Walking Tour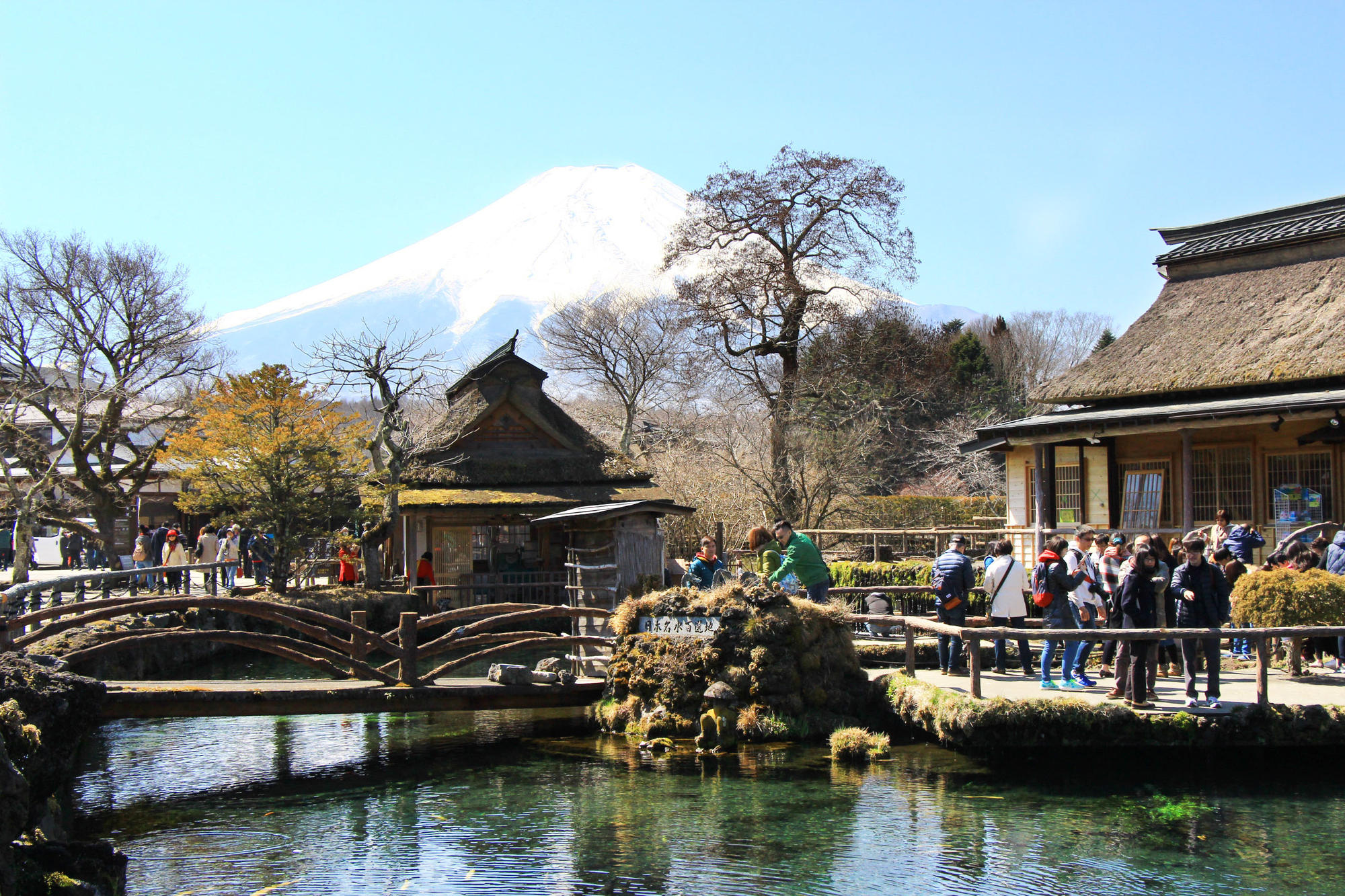 Landscape of Mt.Fuji and Oshino Hakkai Lakes
You might have been to Oshino Hakkai (Eight Ponds) which the ponds are made from the molten snow of Mt Fuji. This tour will guide you to not only Oshino Hakkai but also little known places not written in guidebooks.
9:55 Meeting place is Hotel Kaneyamaen front lobby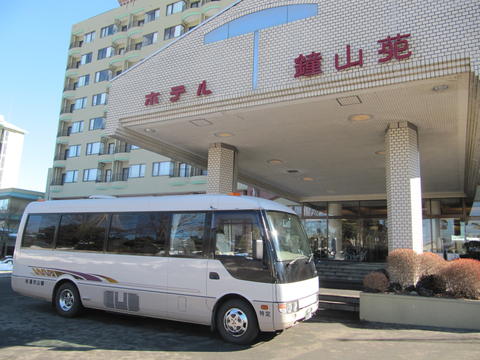 1
10:00 Depart from Hotel Kaneyamaen by bus
The bus will head to Oshino Hakkai Sengen Shrine.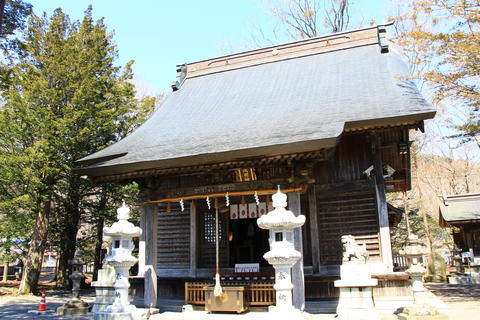 2
10:10 Oshino Hakkai Sengen Shrine
From Oshino Hakkai Sengen Shrine, you need to walk 4km.
Oshino Hakkai Sengen Shrine was built in 807. It is designated as Important Cultural Properties by Oshino village. The shrine was surrounded by large yew trees.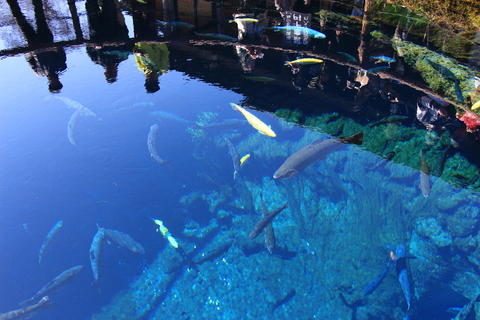 3
Tour of Oshino Hakkai(Eight ponds)
The water is from the melting snow of Mt Fuji and passes through porous layers of lava resulting in the water being so clear and cold. The eight ponds are called; Deguchiike, Okamaike,
Sokonashiike, Choshiike, Nigoriike, Wakuike, Kagamiike and Shobuike. Oshino Hakkai is listed as one of the Mt.Fuji constitution assets, and it is said that people used the water to purify themselves as a part of Mt.Fuji pilgrimage.
This tour will guide you to seven ponds.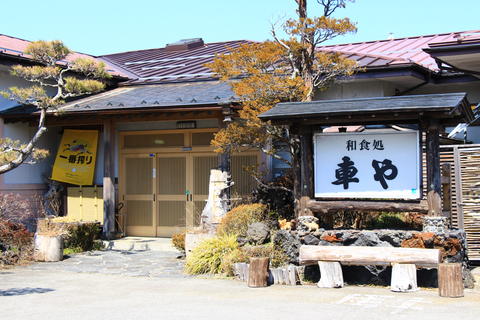 4
Free time for lunch
We will take you to local restaurants around. A restaurant changes depending on the day. Lunch is not included on tour price.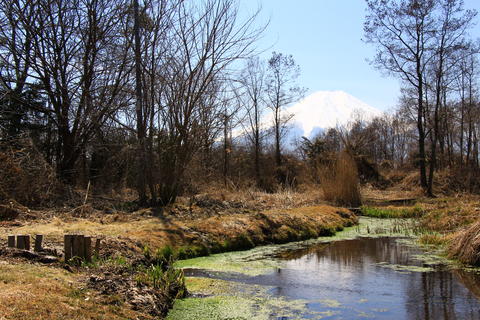 5
Takamarubi-Yusuigun Hotoke-dojo(Japanese eight-barbel loach, Lefua echigonia) Breeding pond
Hotoke-dojo is an endangered species. It used to live in creeks, waterways and paddy fields. The number of them has been decreasing due to the deterioration of the natural environment.(Red Date Book Yamanashi Vulnerable)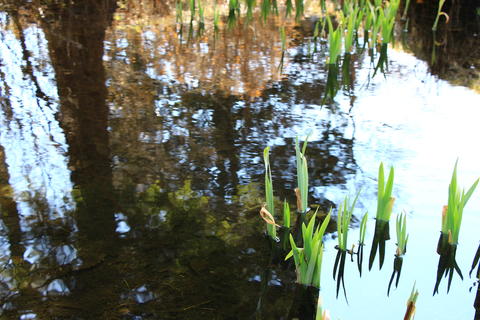 6
Oshino-Yusuigun
There are unknown ponds besides Oshino Hakkai.
We will take you to the others not in guidebook.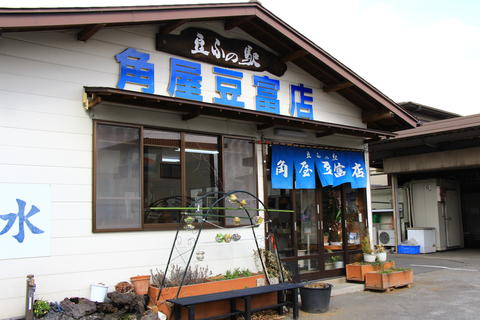 7
13:50 Tofu-no-eki Kadoya-tofu store Parking
Go back to Hotel Kaneyamaen by bus from Kadoya-tofu store parking.
Kadoya-tofu store is famous for using the water from Mt.Fuji and deep essence of soy beans.
Around 14:00 Arrive Hotel Kaneyamaen
INFORMATION
The total walking distance

4

km
Operation dates
April to November
Minimum Number of Participants
2person
Approximate time required
4hours
Insurance
Comes with traveler's insurance
・The tax is excluded in the price.
・Advanced reservation and payment is required 7 days prior to your participating date.
・The tour may be cancelled due to bad weather. (Free cancellation)
・The tour may be subject to change during the tour or canceled on the day in case a tour guide judges the tour is dangerous.
PRICE
7,500yen per person for 2 guests.
Children's rates are 70% of adult price.
For safety, please do not participate with infants.
Only adults will be counted as participants.

【Cancellation Policy】
Within 7 days: 30%
Day before the tour: 50%
The scheduled day: 100%
5,500yen per person for 3 guests.
4,500yen per person for more than 4 guests.